Both congregations of Grace and McCloud have returned to physical worship. But in order to serve those that are still sheltering in place for health and medical reasons, we will continue to offer the livestream for the foreseeable future.
The Grace Community Presbyterian Church Livestream begins at 9am.
https://www.youtube.com/embed/m2WjpF5iMaQ"
The McCloud Community Presbyterian Church Livestream begins at 11am.
https://www.youtube.com/embed/DzS6IV3byJc"
If the video doesn't work, try refreshing the page or watch it directly on Youtube
Below the video you will find the liturgy for today along with the prayers and Scriptures.
Call to Worship: Taken from Psalm 145
Reader: Sovereign God, you open wide your hand and satisfy the needs of every living creature.
People: O LORD, you are righteous in all your ways and loving in all your works.
Reader: O LORD, you are near to those who call upon you, to all who call upon you faithfully.
People: You fulfill the desire of those who fear you; you hear their cry and help them.
Reader: O LORD, you preserve all those who love you, but you destroy all the wicked.
Everyone: My mouth shall speak the praise of the LORD; let all flesh bless your holy name forever and ever.
Invitation to Confession: Luke 18:9-14
Silent Confession of Sin
Hear the Good News, the Assurance of Pardon! Ephesians 3:14-19
Singing: Gloria Patri
Glory be to the Father and to the Son and to the Holy Ghost, as it was in the beginning is now, and ever shall be, world without end. Amen, amen.
The Lord's Prayer
Our Father, who art in heaven, hallowed be Your name. Your kingdom come, your will be done, on earth as it is in heaven. Give us this day our daily bread, and forgive us our debts, as we have forgiven our debtors. And lead us not into temptation, but deliver us from evil. For Thine is the kingdom, and the power, and the glory forever, amen.
Sermon Text: Living in the Kingdom of God: A Study of the Sermon on the Mount, Matthew 6:5-8
Sermon Title: "Authentic Prayer"
1: Godless Praying, Matthew 6:5, 7
There is a clear parallel structure between Matthew 6:1-4 and Matthew 6:5-8.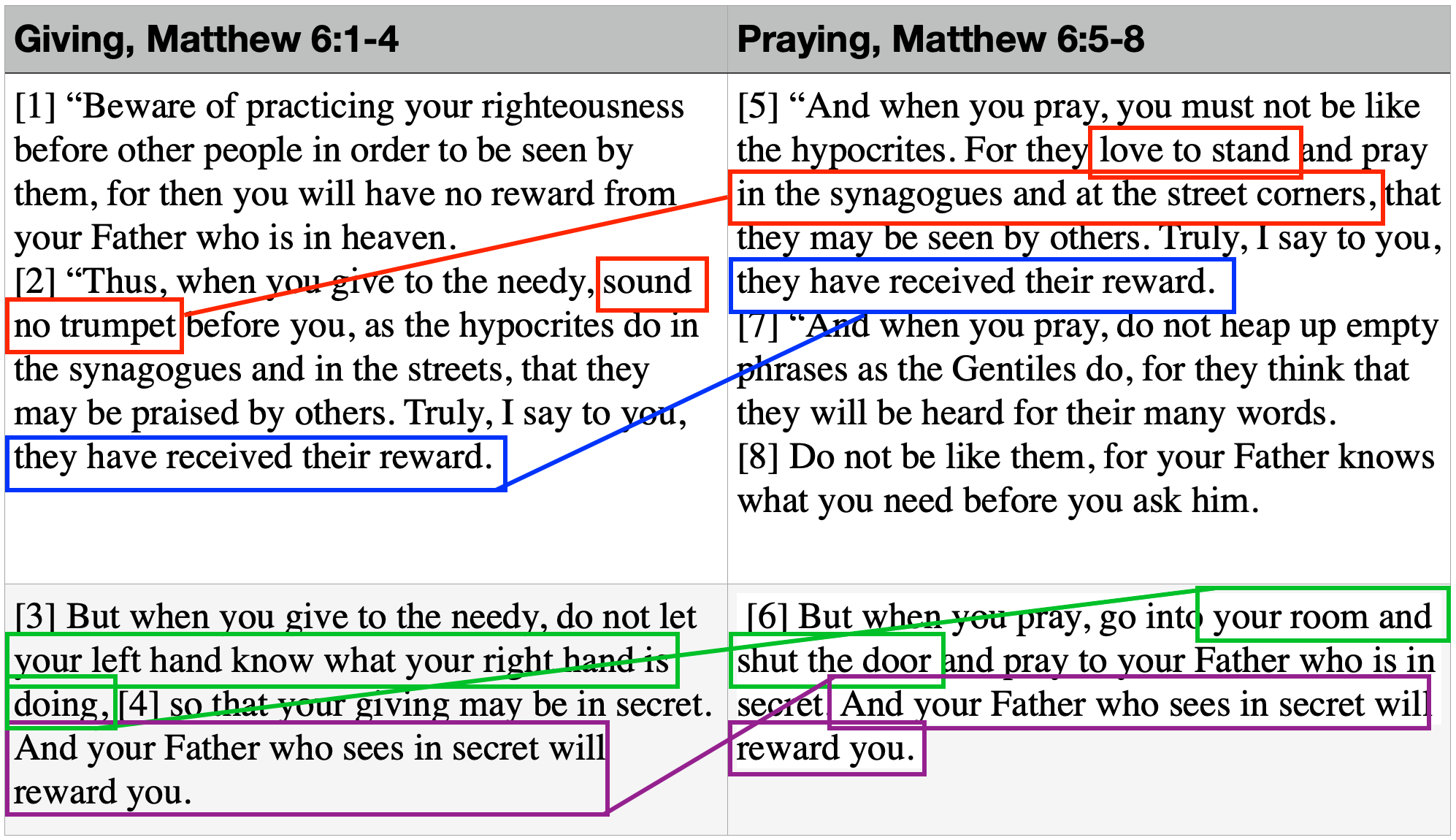 2: Godward Praying, Matthew 6:6
"Prayer involves struggle, but the struggle is not that of persuading our God. Rather, it is the struggle involved in being subdued by God, coming out of the dark and secret places in which we have been hiding the truth about ourselves, and laying the whole of our lives before Him." -Sinclair Ferguson

3: God's Power and Provision, Matthew 6:8
John 14:13–14
To pray in Jesus' name means to pray according the character and will of God.
Conclusion
Resources:
The Westminster Shorter Catechism Q. 98-107
Heidelberg Catechism Q. 116-129,
JC Ryle's A Call to Prayer (click link below)
Psalm 66:19-20
Singing: Doxology
Praise God from whom all blessings flow
Praise Him all creatures here below
Praise Him above ye heavenly hosts
Praise Father, Son, and Holy Ghost
Benediction: Ephesians 6:16–18
Giving Info:
For Grace:
Mail checks to PO Box 219 Weed, CA 96094
For questions contact Gerry Watson, gerry-june@juno.com or 530.938.1020
For McCloud:
If you are a visitor to today's livestream please take 1 minute to fill out our online connection card by clicking the picture below.
(on the form you can request to be contacted by Pastor Nick and can submit a confidential prayer request)
Thank you!