Both congregations of Grace and McCloud have returned to physical worship. But in order to serve those that are still staying home for health and medical reasons, we will continue to offer the livestream for the foreseeable future.
Watch past live-streamed services and pastoral updates on youtube. (click link below)
PAST LIVESTREAM SERVICES AND UPDATES
Grace Livestream begins at 9am
FYI: Pastor Jim Howe's Sunday School class in the book of Isaiah will resume in the Fall.
McCloud Livestream begins at 11am
If the video doesn't work, try refreshing the page or watch it directly on Youtube
Below the video you will find the liturgy for today along with the prayers and Scriptures.


Call to Worship: Adapted from Zechariah 9:9–12, 16-17
Reader: Rejoice greatly, O daughter of Zion! Shout aloud, O daughter of Jerusalem!
Congregation: Behold, our king is coming! Righteous and having salvation is He, humble and mounted on a donkey, on a colt, the foal of a donkey.
Reader: He will cut off the chariot from Ephraim and the war horse from Jerusalem; and the battle bow shall be cut off, and he shall speak peace to the nations.
Congregation: His rule shall be from sea to sea, and from the River to the ends of the earth.
Reader: Because of the blood of His covenant with us, He will set the prisoners free from the waterless pit. Return to your stronghold, O prisoners of hope; today God declares that He will restore to us double.
All: On that day the LORD our God will save us. For how great is his goodness, and how great his beauty!
9am @ Grace Singing: Click here for lyrics to all our songs for today (it will open up a document in another window and you can follow along when we sing)
11am @ McCloud Singing: Click here for lyrics to all our songs for today (it will open up a document in another window and you can follow along when we sing)
Call to Confession: Isaiah 30:15, 18
For thus said the Lord GOD, the Holy One of Israel, "In returning and rest you shall be saved; in quietness and in trust shall be your strength." But you were unwilling, …Therefore the LORD waits to be gracious to you, and therefore he exalts himself to show mercy to you. For the LORD is a God of justice; blessed are all those who wait for him.
Silent Confession of Sin
Hear the Good News, the Assurance of Pardon! Romans 8:1
There is therefore now no condemnation for those who are in Christ Jesus.
Gloria Patri
Glory be to the Father and to the Son and to the Holy Ghost, as it was in the beginning, is now, and ever shall be, world without end. Amen, amen.
The Lord's Prayer (Unison)
Our Father, who art in heaven, hallowed be Your name. Your kingdom come, your will be done, on earth as it is in heaven. Give us this day our daily bread, and forgive us our debts, as we have forgiven our debtors. And lead us not into temptation, but deliver us from evil. For Thine is the kingdom, and the power, and the glory forever, amen.
Sermon: Pastor Nick Welch
Ezra: The Work, Worship, and Witness of God's People
Ezra 7:21-26
1. Generous Provision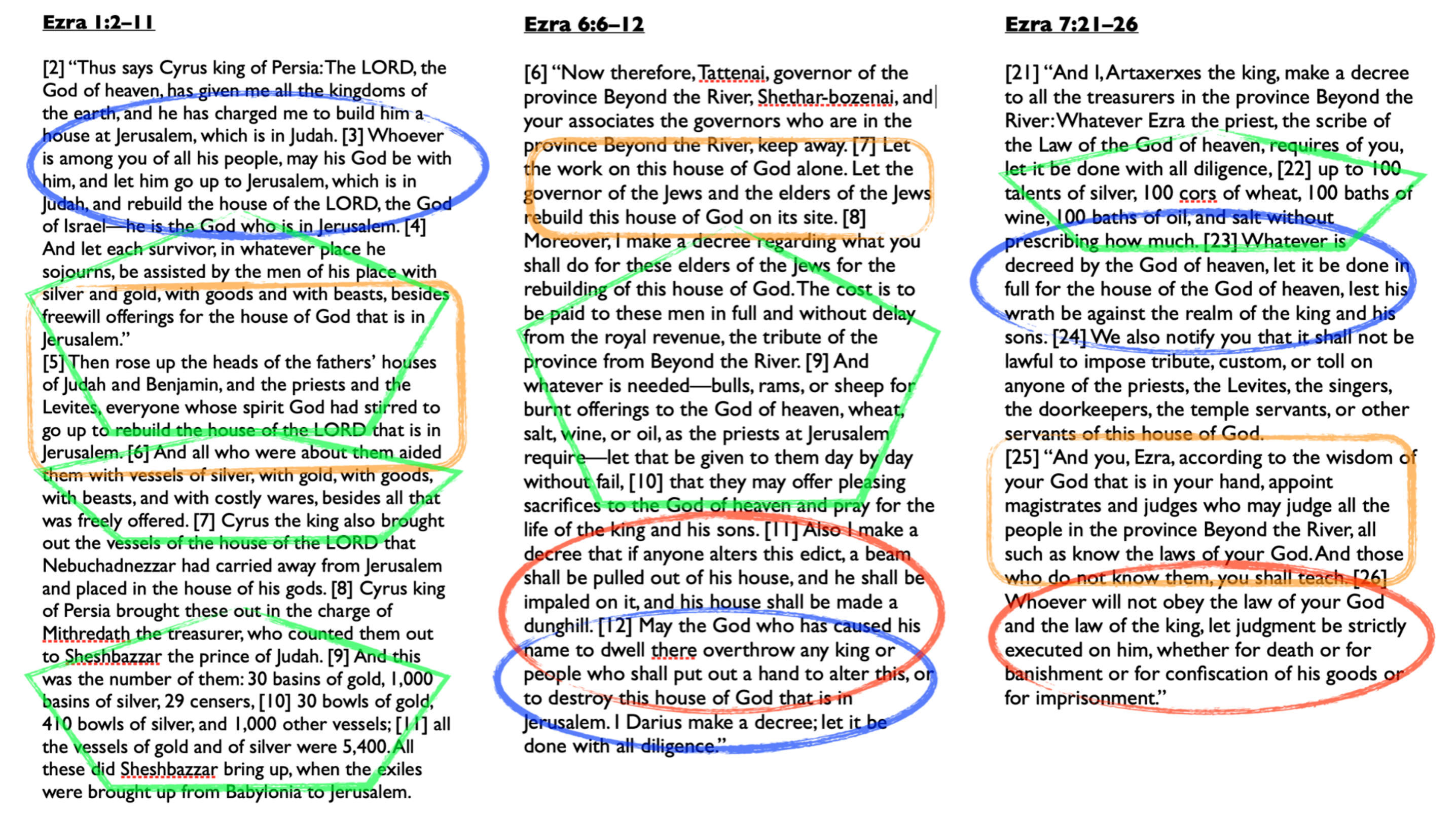 2 . Gracious Parameters
Conclusion
The Westminster Confession of Faith 19.3, "…God was pleased to give to the people of Israel, as a Church under age, ceremonial laws, containing several typical ordinances, partly of worship, prefiguring Christ, his graces, actions, sufferings, and benefits; and partly holding forth divers instructions of moral duties. All which ceremonial laws are now abrogated under the New Testament."
1 Peter 3:18
Affirmation of Faith:The Nicene Creed
We believe in one God, the Father, the Almighty, maker of heaven and earth, of all that is, seen and unseen.
We believe in one Lord, Jesus Christ, the only Son of God, eternally begotten of the Father, God from God, Light from Light, true God from true God, begotten, not made, of one Being with the Father; through him all things were made.
For us and for our salvation he came down from heaven, was incarnate of the Holy Spirit and the Virgin Mary and became truly human.
For our sake he was crucified under Pontius Pilate; he suffered death and was buried.
On the third day he rose again in accordance with the Scriptures; he ascended into heaven and is seated at the right hand of the Father.
He will come again in glory to judge the living and the dead, and his kingdom will have no end.
We believe in the Holy Spirit, the Lord, the giver of life, who proceeds from the Father and the Son, who with the Father and the Son is worshiped and glorified, who has spoken through the prophets.
We believe in one holy catholic* and apostolic church.
We acknowledge one baptism for the forgiveness of sins.
We look for the resurrection of the dead, and the life of the world to come.
Amen.
(*catholic in this sense means universal or general)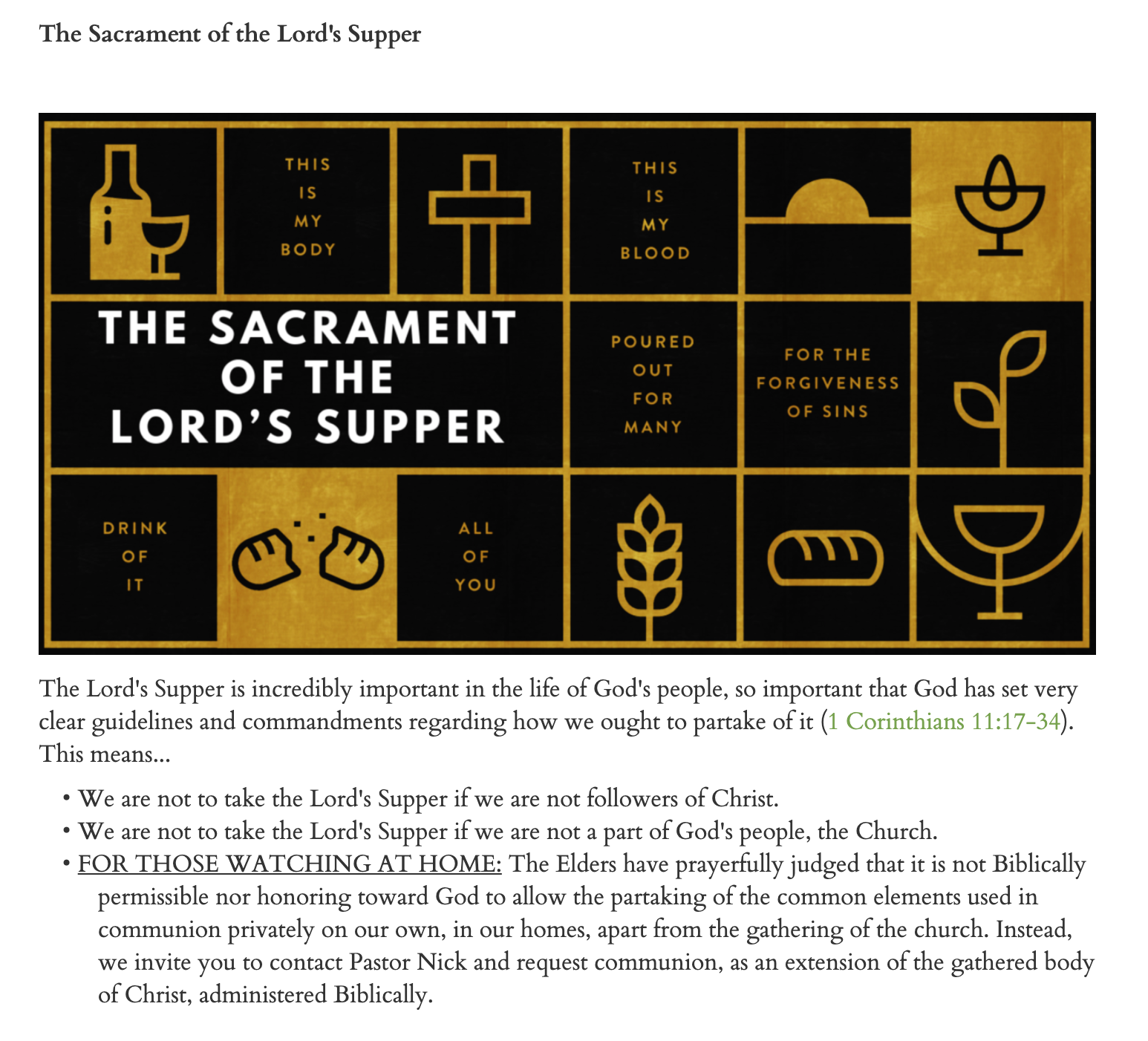 Doxology
Praise God, from whom all blessings flow; Praise Him, all creatures here below; Praise Him above, ye heavenly host; Praise Father, Son, and Holy Ghost. Amen.
Benediction: Romans 11:33–36
Oh, the depth of the riches and wisdom and knowledge of God! How unsearchable are his judgments and how inscrutable his ways! "For who has known the mind of the Lord, or who has been his counselor?" "Or who has given a gift to him that he might be repaid?" For from him and through him and to him are all things. To him be glory forever. Amen.
Tithes and Offerings Info:
For Grace:
Mail checks to PO Box 219 Weed, CA 96094
For questions contact Gerry Watson, gerry-june@juno.com or 530.938.1020
For McCloud:
If you are a visitor to today's livestream
please take 1 minute to fill out our online connection card by clicking the picture below.
You can request to be contacted by Pastor Nick
and/or submit a confidential prayer request
Thank you!