Both congregations of Grace and McCloud have returned to physical worship. But in order to serve those that are still staying home for health and medical reasons, we will continue to offer the livestream for the foreseeable future.
Watch past live-streamed services and pastoral updates on youtube. (click link below)
PAST LIVESTREAM SERVICES AND UPDATES
Grace Livestream begins at 9am
Isaiah Sunday School with Rev. Jim Howe begins about 10:15
McCloud Livestream begins at 11am
If the video doesn't work, try refreshing the page or watch it directly on Youtube
Below the video you will find the liturgy for today along with the prayers and Scriptures.
Call to Worship: Psalm 89:1–4
Reader: I will sing of the steadfast love of the LORD, forever; with my mouth I will make known your faithfulness to all generations.
People: For I said, "Steadfast love will be built up forever; in the heavens you will establish your faithfulness."
Reader: You have said, "I have made a covenant with my chosen one; I have sworn to David my servant,
All: I will establish your offspring forever, and build your throne for all generations.'"
9am @ Grace Singing: Click here for lyrics to all our songs for today (it will open up a document in another window and you can follow along when we sing)
11am @ McCloud Singing: Click here for lyrics to all our songs for today (it will open up a document in another window and you can follow along when we sing)
Call to Confession: Psalm 25:11-12, 16-18
For your name's sake, O LORD, pardon my guilt, for it is great. Who is the man who fears the LORD? Him will he instruct in the way that he should choose. Turn to me and be gracious to me, for I am lonely and afflicted. The troubles of my heart are enlarged; bring me out of my distresses. Consider my affliction and my trouble, and forgive all my sins.
Silent Confession of Sin
Hear the Good News, the Assurance of Pardon! Psalm 102:18–22
Let this be recorded for a generation to come, so that a people yet to be created may praise the LORD: that he looked down from his holy height; from heaven the LORD looked at the earth, to hear the groans of the prisoners, to set free those who were doomed to die, that they may declare in Zion the name of the LORD, and in Jerusalem his praise, when peoples gather together, and kingdoms, to worship the LORD.
Gloria Patri
Glory be to the Father and to the Son and to the Holy Ghost, as it was in the beginning, is now, and ever shall be, world without end. Amen, amen.
The Lord's Prayer (Unison)
Our Father, who art in heaven, hallowed be Your name. Your kingdom come, your will be done, on earth as it is in heaven. Give us this day our daily bread, and forgive us our debts, as we have forgiven our debtors. And lead us not into temptation, but deliver us from evil. For Thine is the kingdom, and the power, and the glory forever, amen.
Sermon: Rev. Nick Welch
Sermon Series: "Ezra: The Work, Worship, and Witness of God's People"
Today's Text: Ezra 2:1-70
1. People Matter
3 Reasons to read lists of names in the Bible...
1. Because all people matter.
2. Because these names are an essential part of the text in which they are found.
3. Because every name matters to God.
2. Work Matters
Genesis 1:28
All work that seeks to honor and glorify God according to His word is legitimate and worshipful work.
3. Worship Matters
Ezra 2:59-63
Numbers 15:14-15
Conclusion
Embracing the hope of the resurrection and the Gospel consists of 4 actions.
1. Repenting
2. Believing
3. Trusting
4. Living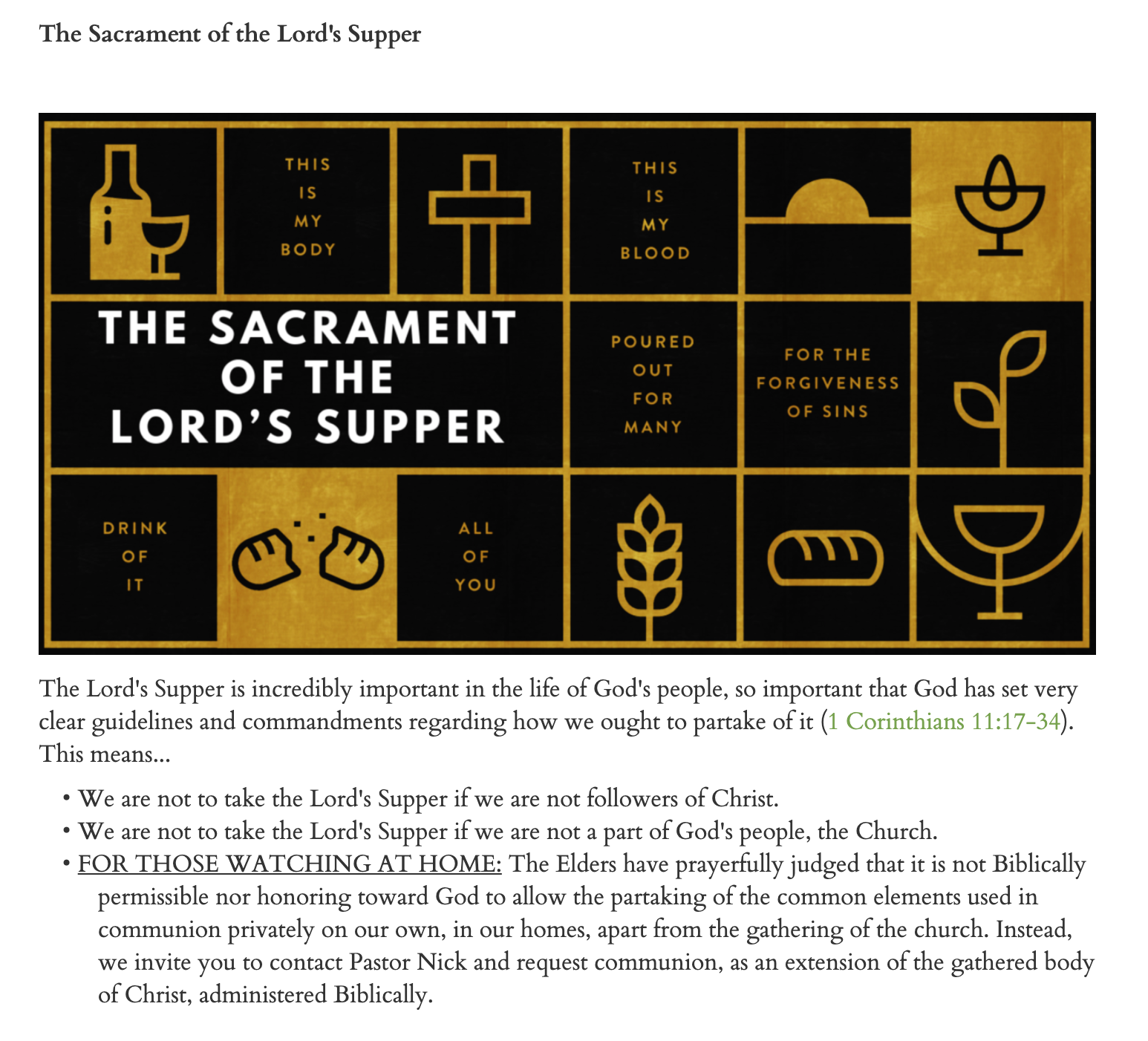 Doxology
Praise God, from whom all blessings flow; Praise Him, all creatures here below; Praise Him above, ye heavenly host; Praise Father, Son, and Holy Ghost. Amen.
Benediction: Deuteronomy 6:4–9,
Hear, O Israel: The LORD our God, the LORD is one. You shall love the LORD your God with all your heart and with all your soul and with all your might. And these words that I command you today shall be on your heart. You shall teach them diligently to your children, and shall talk of them when you sit in your house, and when you walk by the way, and when you lie down, and when you rise. You shall bind them as a sign on your hand, and they shall be as frontlets between your eyes. You shall write them on the doorposts of your house and on your gates.
Tithes and Offerings Info:
For Grace:
Mail checks to PO Box 219 Weed, CA 96094
For questions contact Gerry Watson, gerry-june@juno.com or 530.938.1020
For McCloud:
If you are a visitor to today's livestream
please take 1 minute to fill out our online connection card by clicking the picture below.
You can request to be contacted by Pastor Nick
and/or submit a confidential prayer request
Thank you!